Community
For the People, For the Community – For Thirty Years Now
David Hobbs Honda Proudly Announces…
Current Events
Think Spring!
Ready for the best that 2018 has to offer? We predict this year will be absolutely fantastic!
---
Previous Events
Feeding America Eastern Wisconsin Campaign ~
Occurred

December 2017 through February 2018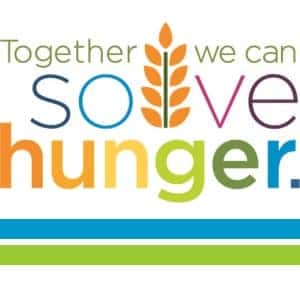 Change your oil, and change lives! For every oil change from December through February, we will make a donation to Feeding America Eastern Wisconsin to help children and families facing hunger.
David Hobbs Honda maintains it's strong commitment to the community by it's continued partnership with Feeding America Eastern Wisconsin. Last year, YOU made the difference for many eastern Wisconsin families by simply getting your oil changed. This year, we want to change even more lives.
Hunger in Wisconsin is not an isolated incident. In eastern Wisconsin, 1 in 7 people are facing hunger. Those that face hunger are not limited to a particular age, race, or sex. It could be your neighbor, or friend. Someone you pass by on the street. The person sitting next to you at church…
You're probably due to get your oil changed anyways. Let that oil change help to change someone else's life! While you're at it, please feel free to further help out those in need by bringing a non-perishable food donation with you and receive a great discount. Be sure to visit our Service Specials to view and print your discount coupon to redeem during your visit. Together, we can solve hunger.
See our online Service Scheduler to arrange for your convenient appointment. Thanks Milwaukee!
The PNC Milwaukee Marathon ~
Occurred

October 14th & 15th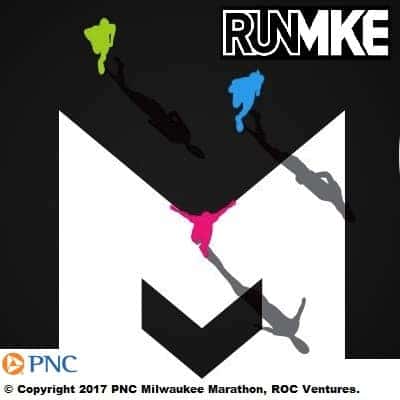 David Hobbs Honda is a proud community sponsor of the 2017 PNC Milwaukee Marathon, formerly known as the Milwaukee Running Fesitval!
What is it? – A full schedule of events including a Mile, 5K, 10K, Half Marathon & Full Marathon.
When is it? – October 14th & 15th 2017.
Where is it? – An event this big doesn't occur in just one spot! Courses cover the Historic Third Ward, Walkers Point, Summerfest Grounds, Veterans & McKinley Park. All gorgeous locations in the greatest city around!
Why are we doing this? – You're kidding, right? Health, happiness, great people, all taking place in the vistas of fantastic neighborhoods. There's even a Pre-party & Fitness Expo! Go to PNC Milwaukee Marathon and check it out. Don't forget to pre-register. Do not miss this event.
For 30 years now, David Hobbs Honda has been a proud member of this community. Yes, We've Got That!™ We can't wait to see you at this year's event! Be well, be safe and have fun!
Labor Day Week 30th Birthday Ground-Breaking Bash! ~
Occurred

9/4/17 to 9/9/17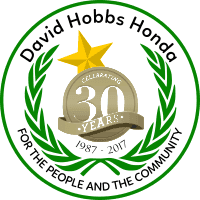 Monday 9/4 – Labor Day specials begin on everything – New, Certified Pre-Owned & Used all at amazing discounts. Last time we did this we ran out of inventory on some models… DO NOT MISS THIS OPPORTUNITY! We are open 9am to 4pm on Monday. Labor Day specials will continue through Saturday, 9/9 – but we can not guarantee inventory selection, so get here early!
Wednesday 9/6 – It's our 30th Birthday! 30 years of serving YOU has been our absolute pleasure. We look forward to 30 more and beyond! Come see why we were voted 'Best of Milwaukee' for 2016 in the Shepherd Express & have won the DealerRater.com Consumer Satisfaction Award for the last 3 years. THANKS!
Wednesday 9/6 – As we celebrate with cake during the day, we invite you to the offical ribbon cutting ceremony at 5:30pm where we'll soon begin construction of the David Hobbs Honda expansion to better serve YOU with a new state-of-the-art facility!
Thursday 9/7 to Saturday 9/9 – The amazing specials continue, but must end at close of business on Saturday. If you've waited, DON'T BE MAD IF THE CAR YOU WANTED IS GONE. This special has been known to cause 'vehicle disappearance syndrome'.
We will also grill out for lunch 9/7, 9/8 & 9/9 – See you then!
Get Your Flu Shot Here ~
Occurred

on Tuesday 9/12/17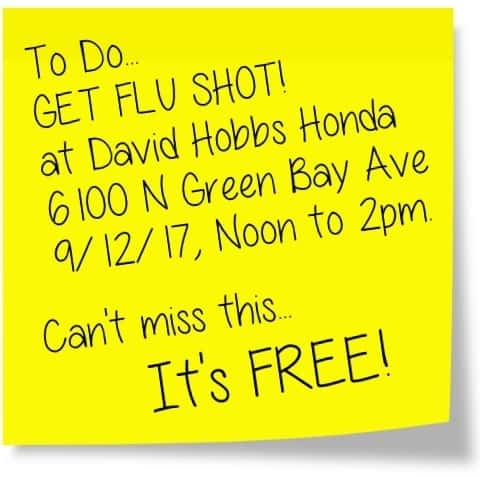 All immunizations are performed by licensed and trained Pharmacists
Immunizations are recorded on the Wisconsin Immunization Registry, so your Primary Care Physician can see a record of your immunization
We also have preservative-free flu vaccines if you're pregnant, and high-dose vaccines for those over the age of 65
Savings you can't beat! Most insurance plans are accepted. If not covered by your insurance, we'll cover the cost! Please bring your insurance card when you come in
For every flu shot administered, a meal will be donated to Feeding America
David Hobbs Honda 3-P Dash ~
Occurred

Saturday 8/26/17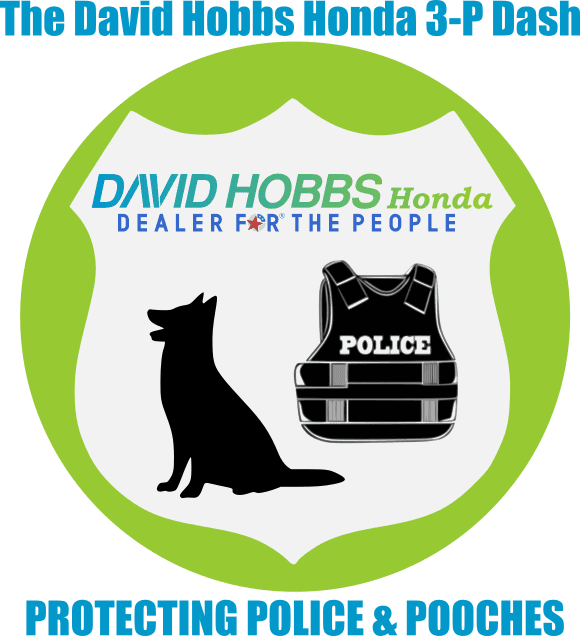 Protecting Police & Pooches!
A 5K run / 2-mile walk to raise funds for the Glendale Police Department Bullet Resistant Vest Fund and K-9 Units
The run / walk started and ended at the new David Hobbs Honda Community Center in the beautiful Richard Maslowski Park in Glendale, utilizing the Oak Leaf Trail as the perfect setting for these events
All ages and abilities participated in the events
Awards went to the top 5k runners in each 5 year age group and the overall male and female finishers
The weather was great and the run/walk was fantastic!
Our special thanks to everyone that attended and supported this very special cause
Operation Kidsafe ~
Occurred

6/12 to 6/16/17 at David Hobbs Honda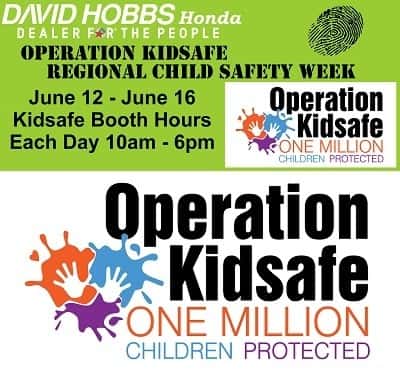 Did you know over 2,000 children are reported missing everyday in the United States?
During Operation Kidsafe Child Safety Week we provided for a free digital fingerprint and photo safety program to provide parents the critical data required to instantly aid in an investigation
Many families took the opportunity to receive the data assembled into a quality 8 1/2 x 11″ printout given to the parent where all data is kept private with no records nor database created
All data is private and no records or database is created
Local Fire, Police & K-9 protectors were on hand
We had gifts & goodie bags for the kids, and Mr. Hobbs even allowed kids to paint thier hand to put a colorful hand-print on a brand new Honda Accord in the showroom!
---